I have not posted a single blog entry since December of 2020. I have no excuses, only reasons.
2021 Highlights Thus Far
Jan. 1st, 2021 • Robby showed up the day after Christmas with just the girls for a one week visit, so we rang in the New Year with our oldest son and two of our granddaughters.
January 3rd – 6th • I, Pamela, drove down to South Florida for three days to visit Greg's Mom & Fred and to take her to a medical procedure.
January 18th – February 1st • Robby had his first emergency surgery. (He had to have bowel resection due to diverticulitis.) I, Pamela, drove to Orange Beach from Orlando (9 hr. drive) and stayed for two weeks helping him and helping with the grandkids.
February 9th – 17th • Robby's 2nd emergency surgery… this time an appendectomy. I, Pamela, drove back to Orange Beach again to help out and this time I was there for just over a week.
March 12 – 19th • Robby was still having a hard time and I wasn't up for driving there again so this time Greg drove there to be there for him and help with the grandkids. He was there for 1 week.
March 25th – April 5th* • I drove to Greenville, SC (8 hr. drive) area to visit family and friends there and to go to church with my mom for Easter Sunday and then bring Saylor (our oldest granddaughter) back for her spring break week. Due to my sister's death this ended up being an awful shock and grief filled week to say the least. At the end of the week, three of my four kids met me at my mom's church for Easter service, so that was a rare treat. I then drove back with Saylor to kidnap her for her spring break week.
MARCH 28, 2001
My 61 year old sister, Kathy, died of a heart attack unexpectedly.
She went to sleep on earth and woke up in heaven!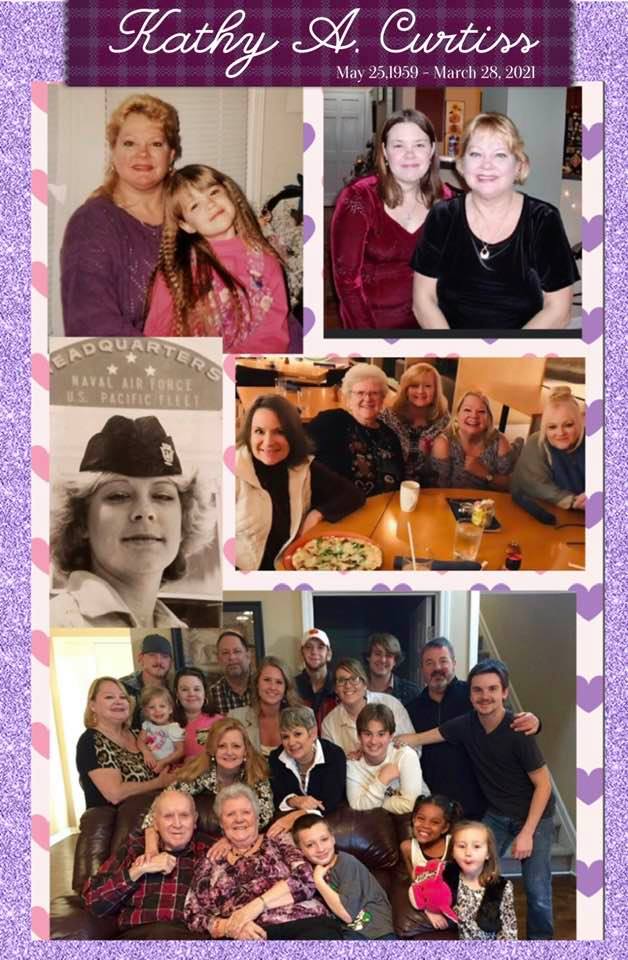 April 5th – 15th • I drove Saylor, our oldest granddaughter, back to Orlando for her Spring Break week …. And then some! She was supposed to be with us only one week, but I was not feeling well at was going more and more downhill towards the end of her stay and assumed it was the usual M.S. flare-up for me. Greg came down with a cold so he delayed him taking her back a few days. We ended up having her 10 days, then Greg drove her back to SC. (We realized weeks later after Elijah got Covid that he got it from Greg. Apparently I had gotten Covid while I was in SC unbeknownst to me and just chalked it up to a bad flare up since I had no taste or smell change and often have breathing issues with my flare-ups. Greg had gotten it from me, but his was no more than a bad cold that lasted for almost 2 weeks. Neither of us realized we actually had Covid until Elijah was hit with it a few days after Greg got back home. Greg's case was fairly mild (no smell, nor taste change and no fever or anything); After Elijah tested positive for Covid (Unfortunately, it hit Elijah HARD!) the pieces of the puzzle started to come together. I remembered that I was likely exposed to it during the week I was there at Kathy's funeral and thereafter. With having no fever nor smell or taste changes and always having bad flare-ups after I visit kids or grandkids for any period of time I never suspected Covid until Elijah was diagnosed and then… LIGHTBULB!
April 15th – 23rd • Greg drove Saylor home to Greenville and then stayed for a week to get his visits in with grown kids and grandkids, etc. (I was at home feeling like I was hit by a Mack truck dealing with covid and thinking it was an M.S. flare-up the entire time he was gone.) He started feeling more and more tired and head coldish the entire time he was gone and he unknowingly gave Covid to Elijah during his visit there.
April 25th • Elijah was diagnosed with Covid on this day and that is when our past few weeks suddenly made perfect sense. Poor Elijah though, as he was not healthy enough to fight it off even as well as Greg and I had. He missed quite a bit of work and had a rough time recovering. We felt bad and responsible, to say the least and helped out as much as we could. Thankfully, God gave each and every one of us an amazing immune system and even his weaker one was able to recover fully.
May 13th -21st •Elijah was supposed to get his wisdom teeth out in July, but… he ended up having some serious pain and couldn't function so I scheduled his emergency surgery on May 13th for him to get them out on May 14th! I immediately drove all the way back to Greenville, SC from Orlando once again and took him to the surgery and then stayed there for just over a week to help him during his recovery time. Got some more family visits in while there as well.
May 30th – June 1st • Greg drove down to Mom's house in South Florida for a visit and to help them with some house projects.
June 10th – 25th • Robby was still struggling so Greg drove back to Orange Beach, Alabama for another 10 days. He was there and away from "home" for our 37th anniversary and for Father's Day. But he was thrilled to get to spend his Father's Day with his firstborn son.
July 8th • We FINALLY left our Orlando site as we are both bored and antsy!!!!  We didn't sell our house and all of our belongings to sit in a campground.  Granted it's been necessary and a blessing (see above – all that traveling and support we were able to give our grown kids would not have been possible if we were not in a stationary site during the first half of this year.) But we were BORED!  We wanted to travel!!!! We decided to get out of this Florida heat and escape hurricane season and get some traveling in and then return to Orlando in the fall for me to drive back up to SC for the birth of my next grandson (Brittney is due with another boy, Milo!) in December.  Everything should be safe travels and happy trails from here now…  What could happen?
July 20th • TIRE BLOWOUT #1 – Good Sam Roadside assistance NEVER SHOWED UP and Greg finally replaced the tire with our spare himself in a very dangerous location right off a crazy-busy highway! We had to stay in a hotel for the night as by the time we were back on the road it was too late to continue our drive.
July 21st • TIRE BLOWOUT #2!!!! Unbelievable!!! The tire on the opposite side blew this time. Thankfully we were only 20 mins from the next campground and Greg was comfortable changing it himself since we had a new tire from the previous blowout, he was able to put our spare on this one. Again, No help. We decided Good Sam Roadside Assistance is WORTHLESS!
July 21st -August 1st • We stayed at Carolina Landing, (about an hour from Greenville) for a week and a half so we (mostly I, as Greg needs to work!!!) did almost daily drives to get in our friend and family visits (and those I was unable to visit back in March.) We picked up Saylor on July 30th and brought her with us for 10 days up to our NC campground during her summer break and so we could take her up to see her Great Grandma Jodean and Great Grandpa Fred.
August 1st • Our brand spanking new tire was SHEARED OFF and went flying across road. Tire incident number 3 in less than a 2 week time span. What?!?!?! Saylor was with us when this occurred as well. We ended up having to stay another night in a hotel before we could get it repaired and head on to our Lenoir, NC campground. We then had Saylor for another week (in total from July 30th – August 9th.) I drove her back down to SC and visited as many as I could in a whirlwind day (2.5 hr. drive each way) and then drove back same day on August 9th.
August 9th –29th • On the 9th I, Pamela, drove Saylor back to Greenville and got in quick visits with grown kids, my mom and my sister, Brenda before driving back to Lenoir, NC. We got in a few visits with Greg's mom as well while we stayed at Lenoir campground for a total of 4 weeks.
August 17th • Our goldendoodle, Popeye, had to have surgery at his Lenoir vet (he has 3 vets across the country!) to remove a fast growing tumor the size of a lime from his back. Thankfully there were no complications and the tumor ended up being benign.
August 29th – September 19th • We went to Forest Lake RV Resort in Advance, NC. We enjoyed exploring this area, although we missed our oldest and his family not being in this area anymore. This was the first time we'd been to this campground not having them to visit.
September 19th – We arrived at the Twin Lakes RV Resort in Chocowinity, NC. Finally… a campground that we have never visited!!! We love this coastal area which is a boating and waterway mecca! We can get all the way to the Atlantic ocean from our campground (if we had a boat, that is) via the Pamlico River! This area has the potential of being a terrific home base someday…. But our next steps are still too up in the air at this point.
So… as you can clearly see, I haven't written in the whole of 2021 because I'VE BEEN BUSY! This year our focus has been to be close enough to be there for our grown kids when needed, rather than on our travels. Brittney, our only daughter, has another baby boy due in December, so I plan to be there for his birth as well.
After that, we are really praying that next year we can get back to traveling as we didn't sell our home and all of our possessions to live in a trailer parked in a campground! ( I know, I said that already – but seriously!) Although we are very grateful that we had the opportunity to be more stationary much of this year, we are both looking forward to more travels in 2022.  Since a boat doesn't look to be in our immediate future (except our dinghy and outboard which we are going to use to explore the Pamlico River while we are here), we are hoping to head back out west in the spring. Being in this humid climate for so long, coupled with all the continual running around and stress has really taken a toll on my health. I try not too say much about it, but I must admit that I am very ready for the dry, arid climate that is such therapy for me.  Although I still feel healthier than I deserve for a 55 year old lady with multiple sclerosis, as this year progresses I am starting to feel more and more my age and that's simply not okay with me! Greg much prefers the climate out west as well.
Finally, I wanted to make sure that I point out our latest hobby. Although we have yet to be able to add more sails to our entourage, we have been very blessed to have added four brand new wheels! To say that we have been thoroughly enjoying our Lectric eBikes would be a MAJOR understatement. I got mine first and I have over 1,500 miles on mine and Greg got his in April and he already has over 1,000 miles on his! These bikes have reinvigorated our travels and we literally ride them daily. We are both looking very forward to using them to re-explore our favorite areas and national parks when we get back out west!
All this to say, we have been busy bees. Our "plan" at this point is to head back out west as soon as possible but as always, we make our plans, yet we fully rely on God to direct our steps. His ways are higher than ours!
Until then… Happy Trails & Sunny Sails!
P.S. If you want to keep up with us in real time, make sure you like and follow our Wheels and Sails facebook page! We keep up with that regularly. Turn on notifications too!