Just when you think you know what to expect from us… we up and surprise you. Frankly, what I'm about to announce has surprised even us! Are you ready for this? Are you sitting down? Wait for it…
I have written lots of details as to the hows and whys below, but for those of you with limited time and patience – here is the gist of it.  Greg and I just leased an AMAZING annual site right here at Orlando RV Resort! We want to take a year to explore this area extensively, to work (Greg) and write (me); to slow down and take some time to breathe and get a much needed second wind.  And all of this while we are only a day drive from all of our grown kids and grandkids and even closer still to Greg's mom. Covid has taken the fun out of traveling lately and we have been on the move now for almost five years. Relocating every two-three weeks for five years has caught up with us. We are both looking very forward to a short break. This is the perfect location with lots to do and yet central to all our kids and family.  We are going to use 2021 to replenish our cruising kitty and our energy!  We will still be able to travel if and when we want, but we have our very own site here now to serve as our home-base that we can always return to. Other than a few small trips, we plan on sticking around here for the most part though.
So that is our news! Are you in as much shock as I am?!?! Look at the pictures below to see our brand new 2021 home base. If you have more time and patience to spare, read on for more of the hows and whys.
We pulled into Orlando RV Resort on Sunday, December 13th, excited to get settled in for three weeks and to be able to spend Christmas here. Last year I was in South Carolina for the entire month of December for the birth of our youngest grandchild and Greg ended up spending Christmas all alone out in Arizona. In light of that, we were both looking forward to having a nice quiet Christmas alone together this year in warm, sunny Florida. The Thousand Trails Orlando RV Resort aka TTO; is one of our absolute favorite parks so we booked it just before their restricted high use season to make sure we could get three full weeks here. We had booked our reservations to come in on 12/13 because 12/15-4/1 is their "High Use" season and we can only get 2 weeks here during those dates. As I said, this is one of our absolute favorite parks in the entire country so we wanted to get as much time here as we could. I, Pamela, like Verde Valley Rv Resort in Cottonwood, Arizona the best; but only because of the climate. TTO is a very close second, without a doubt!
When we first showed up, after the obligatory wait in the long line of RVs checking in; we immediately drove over to the brand new section that we had heard so much about with high hopes.  We immediately scored a terrific site in the brand new section and we were thrilled. After pulling in, Greg was leveling up Exodus (our Fifth Wheel) so I drove Zippy around the new section real quick just to see all the brand new sites. I saw a sign saying "Brand New Annual Sites" so I decided to go check them out, just for the fun of it. There was a whole line of gorgeous very spacious annual sites that were backed up to the woods with only two being vacant. I went back and told Greg about how cool their new annual sites were and casually mentioned how nice it would be to have an annual site in this park. We had never talked about or even seriously considered slowing down anytime soon, much less getting an annual site anywhere, so at this point we were simply fantasizing about it.  Greg and I both quickly dismissed the thought and went about setting up our home and re-decorating for Christmas at the site we had just pulled in to.
After Greg was all finished setting up our outside space, he hopped into Zippy and drove over to the back of the new section himself… just to check it out. He found an absolutely amazing site that was empty so he pulled into the driveway to take a closer look and check it out. Not only was it very wide and grassy and backed up to the woods, but there was even a pond behind the woods! He then noticed a man walking towards him from the site next door and he said "Greg!" It was Mike, a good friend of ours that had just returned home at that moment because he forgot his coffee. We had originally met him and his wife, Tiffany (they are from California) when we were in this same park two years ago. We had also met up with them that next spring up in Lenoir, N.C. at Green Mountain Park. It turns out that he and Tiffany had recently moved from another annual site to one of the new sites. Actually they were at the annual site that was right next door to the one that Greg was parked at and drooling over! After chatting a little, Greg expressed his delight at these new annual sites, this one in particular. Mike told Greg that all of the good annual sites that were backed up to the woods were already leased out. He then went on to say that he "knows the guy" who handles them and he said he'd text him and see what the deal is, especially since the site is still sitting here empty even though it's supposed to be taken. They chatted for a bit and then Greg came back and filled me in.
When he returned we both fantasized about how awesome it would be to actually put the brakes on for a bit. We had never really thought much about it as even being an option, but frankly 2020 has been a hard year for us as it has for almost everyone. Covid has taken much of the joy out of traveling and we found ourselves faced with over four more months of wintering in Florida which will require us moving every two weeks to a new park and only being able to make most of our reservations 60 days out instead of the usual 120 days. Add to that the fact that we were revisiting many of the same parks that we had already stayed in and this made it even less exciting. Booking parks in Florida in the winter is stressful and thus far I had been unable to get us into any of the parks that we really wanted to visit this winter (ie. the Keys, Fort Pierce, etc.) Our 5 year anniversary of traveling full time is fast approaching in February and truth be told, not only has Covid taken much of the joy out traveling as I said above, but also it has put on hold (for now) our live-aboard sailboat plans and dreams at least for the next year or so. 2021 doesn't seem to be holding much promise for improvement, so the jury is still out. All that has resulted in us both finding ourselves road weary, jaded, and not terribly excited about any of our upcoming travels. But still, getting an annual site didn't seem to be the next step for us. Greg said that very same night, "There is no way I would consider staying put for any length of time unless we had the perfect site in the perfect RV resort in the perfect area!" I agreed with him 100% and we both knew that this would be the perfect RV resort in the perfect area, but the chances of us actually getting "the perfect site" here were basically slim and none. Good annual sites here don't come available often and they go fast!
The fact is, Thousand Trails Orlando IS the perfect RV resort to spend some extended time in. Greg recently visited with his mom who is only 3 hours away and he wants to visit with her more frequently while we are in Florida. So not only is this park not too far from her, it is also in an ideal/central location to all of our kids and grandkids. It's a long yet doable day-drive to our kids and family in South Carolina, and the same goes for the distance to our oldest son and his family in Alabama. We also have friends and other family right here in Florida as well. Back to the story as it unfolded…
A couple of hours later, we decided to drive around the park and return to the annual section so that I could see the site that Greg was talking about (even though it wasn't available, we could still dream!) and so I we could both say "Hi" to Mike & Tiffany. We pulled into the dream site and Mike immediately walked over. He said he texted "the guy" and the people who were supposed to get this site "just cancelled". What?!?!?! Greg looked at me and I looked at him and without even discussing it we both said, "Text him back that we want it!"
That was the beginning of the next couple of days of prayer and contemplation, writing down our pros and cons, and lots and lots of freaking out (mostly by me). Once we finished our comprehensive list of the pros and the cons of us actually staying put here for a full year, much to our surprise we ended up with thirty "pros" and only three "cons"! Getting this site in TTO with good friends right next door; an amazing brand new gorgeous "state parkish" site that nobody had ever even stayed in before with a view of water right out our back window; and with so much to do and explore close to us; AND being so central to so much of our family… it all seemed too good to be true. But God! It turned out to be a no brainer.
So… all this to say, it is official! We leased this site for all of 2021. Of the three cons the main one was the potential for boredom with us being in the same spot for an entire year. The fact is that we can still leave here and take trips and travel whenever and to wherever we want to and we still have this site to return to. If it gets too hot in the summer we can pop up to the mountains of North Carolina if we want. Even though we have this leased site, we can still use our TT membership parks to travel to, so we have all the flexibility we want.
I don't think neither Greg nor I realized just how burned out we were from constantly being on the move until God opened all these doors for us. This was truly a GOD thing, and even us scoring this site seems like a miracle in itself. We had made our plans, but He was clearly directing our steps where we had not even previously fathomed. He's good like that.
Both of our heart's desire at this point is to take 2021 to explore this area, Greg wants to put in a lot more hours with his main client www.naviteer.com; and he wants to build and bring to market the mass market consumer product that he's been developing and has been designing in his mind for a couple of years now – www.safeodyssey.com. This will allow us to hunker down and replenish our cruising kitty. I strongly desire to put in a lot more hours writing and finally finish my novel! Not having all those Scenery Swap days and not having to spend so much time planning and reserving our trips will free up an exorbitant amount of time. In addition, we both plan on taking advantage of amazing weather here and the terrific amenities this resort afford to get more daily exercise than we have this past year. We now have miles of walking and biking opportunities, as well as pickle-ball, basketball, and two beautiful pools, a hot tub, fitness center, and a lake that we can kayak on, all right from our doorstep! This resort has everything we could possibly want for living a healthy active lifestyle.
Finally, we all know how important location is. The location of this park is unmatched to any in all of our travels. We are outside of the crowded congested areas, yet minutes to absolutely everything. This area affords all of the major theme parks (Disney, Universal Studios, Sea World, and more) as well as an abundance of lakes to explore in our dinghy, parks – including several very nice state parks to explore, and everything we could ever want shopping-wise. Lake Louisa State Park for example is just 6 miles down the road from us and that gives us easy quick access to Lake Louisa and they even have horseback riding there! Also, when it comes to the ocean – we are located smack dab in the middle of the state so we are less than 1½ hours from either the gulf coast or the east coast. Not only is this good for me to get in a beach day every now and then, but more importantly it will afford us an even greater inventory of sailboats when we are ready to resume our search.
So…  all this to say…  although our journey has not ended, we are thrilled to be able to at least slow it down for a year.  We realize as well that lately Greg and I both have too much of a "been there, done that" jaded attitude towards travelling, so we think this respite will help build our excitement back up as well.  Just think….  If Mike hadn't forgotten his coffee, none of this would have happened!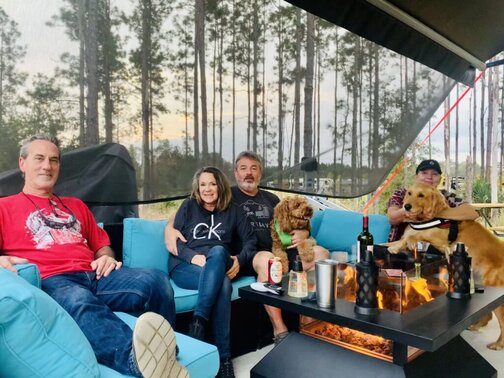 Happy Trails and Sunny Sails from Orlando, Florida!