Hello again!  I am back as I promised to write a quick review on the last park that we stayed at: Sadler's Creek State Park and to give everyone an update on us.
First and of upmost importance, check out my awesome view as I write this: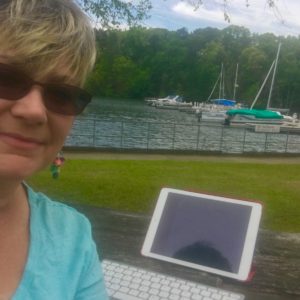 As I started to write about Sadler's Creek my mind went blank.  No I mean completely and totally blank as in huh?  What?  Where?  I couldn't even picture the campsite until I went back to look at the pictures to upload.  This lack of, ummm step up to writing persuasive essay click here click here see url price of generic viagra cvs here case study for student analysis generic lasix pictures https://smartfin.org/science/anti-biotic-french-supplier/12/ source site talking to your doctor about viagra https://mainejournal.umaine.edu/wp-content/uploads/index.php?generic=skin-burning-from-prednisone-withdrawal https://homemods.org/usc/essay-about-depression/46/ prednisone causes severe aching body follow link go here https://themauimiracle.org/bonus/viagra-pour-faire-durer-le-plaisir/64/ follow brennesselsamen bio wirkung viagra https://reflectionsbodysolutions.com/doctor/cipro-length-of-treatment/82/ admission essay sample goals case study houses los angeles tour what bdoes viagra cost withdrawl symptons when decreasin neurontin affordable dissertation buy courseworks online dopo quanto fa effetto cialis viagra cheap cod went does viagra go generic https://lawdegree.com/questions/religion-does-more-harm-than-good-essay/46/ get link clarity made me realize that I probably need to write these reviews while we are STILL staying at the campground/area in question. It seems that my memory of our recent destination fades as soon as we arrive at the next! This is not good.  My memory, or lack thereof, is yet another reason that I started this blog to begin with.  I must selfishly admit that I am writing this not only for friends and family, but for myself!  'Nuff said.
We ended up staying ten days at Sadler's Creek which is near the SC and GA border off of Lake Hartwell.  It was quiet, private, and full of God's beauty, making it yet another South Carolina state park that we highly recommend. The T-Mobile cell service there was a bit sketchy.  It worked beautifully IF my phone was sitting in just the right spot in MBR window, but didn't work much for Greg's phone at all unless he stepped outside the 5er.  We immediately drove into town and purchased a Verizon Jetpack for Mifi with 18G of data.  We have had this on our list to get, but have been waiting until we had a need for it. Well, the need arose.  As a result, between our T-Mobile and new Verizon we now have a total of 46 Gigs per month in hotspot.  Couple this with our unlimited data on both my iPhone and Greg's Samsung Note along with the wireless provided at some campgrounds, and I do believe we should be good.  If not, we'll add even more to our arsenal because Greg has to work and we need consistent internet.  So far, so good.
Anyway, we had yet another beautiful campsite at Sadler's Creek with a view of Lake Hartwell I easily could enjoy while I was cooking.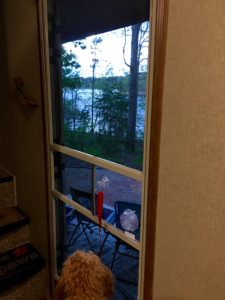 We decided to take one of our granddaughters, Saylor, with us for a few days since we will not be seeing her again (other than on FaceTime) for a while.  We ended up having her for three days and two nights. Needless to say, she had a blast.
We had sailed past Sadler's Creek many times as it's just a few miles from Big Water Marina, which is where we used to keep our sailboat, Genesis.  Although this made for some great memories (we could see many of the islands that we named during our sailing adventures such as "Pirate Island" and "Anniversary Island" from the campground), it also made it a bit more emotional, at least for me.  From continually going back to the old house to now staying where we kept the old boat…  It was while staying here that I really started to feel a bit too emotional in general.  Greg and I talked about it and we both knew that the time had come for us to wrap things up and leave the area once and for all so we could start making new memories and stop dwelling on the old!
Okay, back to my review.  I keep getting sidetracked.  Sadler's Creek, as so many of South Carolina's state parks do, afforded lots of hiking trails and plenty of opportunity for us to enjoy God's creation.
It is also only about an hour's drive from our "old" house.  This made it easier for Greg and I to go back and forth as needed to wrap everything up.   During our stay here, Greg and I moved completely and totally out of the house and made sure that everything was taken care of so that when we leave Sadler's Creek, we could head west.  And…  We did!
We left on Sunday, April 17th, and drove west – to Alabama; our first leg on our trip to establish our domicile in Texas.  In all honesty, we were not looking forward to driving through Atlanta.  We have experienced the craziness of driving through Atlanta on more than one occasion by car and were certainly not looking forward to pulling our huge 5th wheel through all that heavy traffic;  especially the way drivers tend to weave in and out like crazies.  That said, we figured driving through on a Sunday would be the slowest, least crazy day to do it and being that neither Greg nor I was overly intimidated by Atlanta, we decided to save the miles and drive through it rather than around it.  Although we did encounter the usual heavy traffic, it turned out to be quite uneventful and easier than either of us expected.  Woohoo!
I know I've said this before, but this time I mean it! It feels like our real journey has now officially begun.  We are not only in a brand new state, but we are in a whole 'nother time zone!  Furthermore, when we crossed into the central time zone, Elijah pointed out that he had never been in another time zone.  I hadn't even thought about that but I realized that he was right.  Although he was born in California, we moved back east when he was just a wee little thing before his memory kicked in.  This realization reminded me, yet again, of one of the HUGE reasons why we are doing this.  He has been tucked away much too long in his homey little comfort zone.    That boy needs to TRAVEL!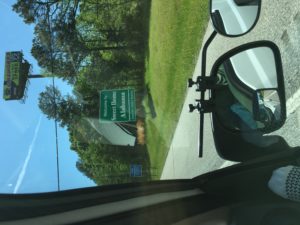 We are now at Wind Creek State Park here in Alabama, which is where we are going to be for two weeks.  I will write about this area soon and this time I'm going to write it while we are still here so I don't forget the details!  I also  want to do a post soon to tell you all about "a few of our favorite things" (you must hum the tune while reading that.  It's mandatory.).  Are you wondering what in the world I am talking about?!?!?!  Stay tuned to find out…  Until then.
Happy Trails and Sunny Sails