Hello from Arizona! Yes, we are "wintering" this year in my absolute favorite state: Arizona. We have been in various parts of Arizona since late September and will stay until mid-January at which point we will be heading over to southern California. We are timing our travels to be in the San Diego area in time to attend the San Diego Sunroad Marina Boat Show that is taking place the end of January. We want to check out liveaboard trawlers in addition to sailboats as we are very much in the planning stages of our next move/phase. Suffice it to say, we are looking VERY forward to the boat show!
We have all of our reservations already made up through mid-April to gradually work our way up towards Yosemite. Our plan is to be in the Yosemite area by late April/early May when the weather is warm yet schools are still in session. That should be the least crowded time to visit. We weren't able to make it there when we were in California a couple of years ago. That means we haven't been to Yosemite National Park since we lived in California 20+ years ago!
Back to Arizona… As I write, we are enjoying the desert vibe while hanging out smack dab in the middle of nowhere, aka the Arizona Outback. This weekend we are heading back to our favorite Thousand Trails campground in Cottonwood, Arizona, where we are using our TT membership's 4th week extension to stay in one place for the entire month of December. I (Pamela) am then flying back east for 3 weeks to visit grown kids and grandkids as well as other friends and family; and most importantly to be there for the birth of our latest grandson, Atlas. Greg has to stay in Arizona with Popeye, so I will fly back just in time to spend Christmas in Arizona in my own home with my hubby and my puppy.
I know I've said it before, but I absolutely ADORE Arizona. This time around I find I am falling in love with this state even more. Everywhere we go since we stepped foot back into this gorgeous state I say the same thing to Greg, "I love this area!" Now I'm to the point where I just say, "Have I mentioned lately how much I love this area?!?! There are plenty of pictures below to show some of the things I love about Arizona.
Speaking of pictures… Did you see our new LOGO? Let me tell you a little story. We met a man whom we first thought was simply a very cool guy pulling an adorable teardrop trailer with his Tesla car by the name of Kevin. We had never seen this setup before, nor any trailer being pulled by a Tesla for that matter, so being intrigued we got to talking. Turns out that this very cool guy, Kevin, is not only very talkative (so he fit in well with us) but he is also a VERY talented graphic artist! He said he'd do a logo for us and Greg gave him some of his ideas and a couple days later Kevin had to leave so we shared contact information and said our goodbyes. A couple of weeks later we got an email from him with his first rough draft of our logo. He drew it all out and lets just say he nailed it from the beginning and after some refining we love it even more! He has created the absolute PERFECT logo for us that even has surprise cameos of Greg and I in the mountains. Just. Wow. We need to get a sign made up to hang on our rig. And maybe some T-shirts, and hats, and mugs, and… Seriously, we LOVE our new logo! If you are looking for any kind of a logo, for your business or your pleasure – contact Kevin Quinn at Q Graphics. He has some serious talent! You can reach him by email at qink@earthlink.net or by phone at 818-340-1817. Tell him "Wheels and Sails" sent you.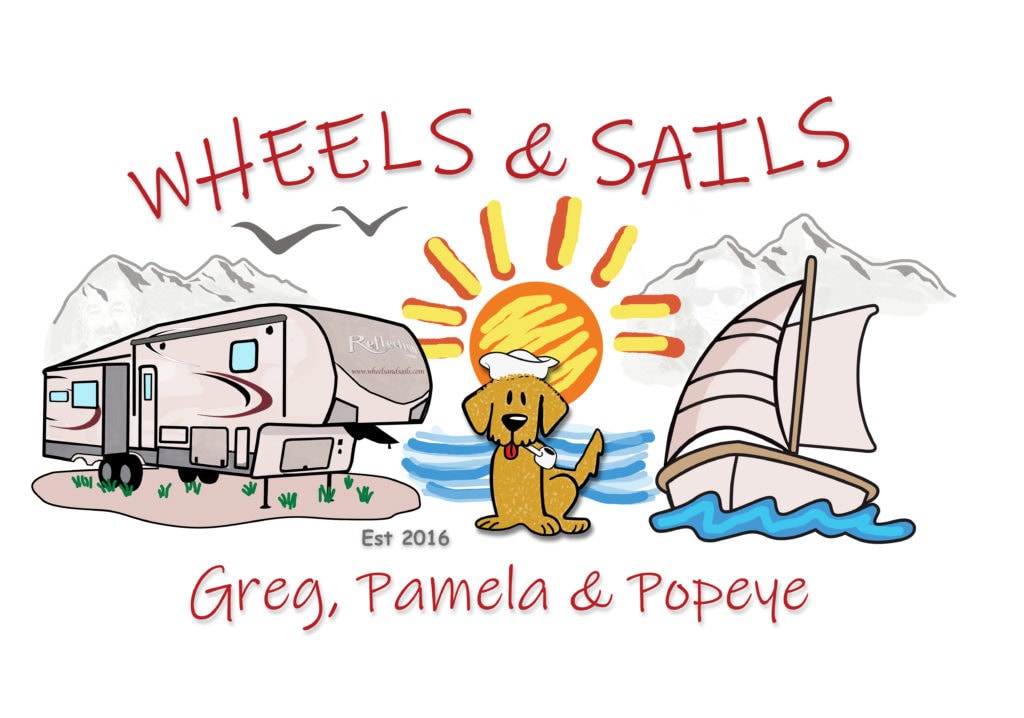 Before I show you more of the reasons why we adore Arizona so much, let me share another little story with you. Have you ever heard the song, London Bridge is Falling Down? Built in 1831 (to replace the original even older London Bridge) the London Bridge spanned the River Thames in London. It was literally falling down slowly and unable to meet the demands of more traffic than it was designed for so it was very carefully dismantled in 1967 and each brick was meticulously numbered. It was purchased by Robert P. McCulloch, Sr., the founder of Lake Havasu City, and relocated 5,400 miles to be rebuilt (and reinforced) over Lake Havasu in…. wait for it…. Arizona! So… of course Greg and I HAD to go to visit (and walk over and drive over!) the real, authentic London Bridge. Check it out…
Why do we adore Arizona? Let me show you…
If you've hung in this long, make sure you pop over and check out our videos page. We have added another since my last post and it's a terrific one! Greg is the video taker and producer and he's upped his game lately. He has professional drone footage of the Arizona desert and more. Check it out by clicking on Videos on our menu above, or just click here: Wheels and Sails Videos. Make sure you give us a like/thumbs up on our videos! Also, comments are always treasured and responded to on any of our pages, so comment away. (It's nice to know someone is actually reading our blog!)
Happy Thanksgiving and Merry CHRISTmas and as always…
Happy Trails and Sunny Sails!!!