We have been living in our new rolling home for 2-1/2 weeks now, but we have been staying relatively close to our old "sticks and bricks" house during this time to make sure all was going to work well in case we needed to return to the dealer to work out any kinks.  Everything has worked flawlessly and we have had zero problems (other than those caused by our own learning curve.) We are thrilled that all the great reviews we have read about the Grand Design brand of fifth wheels these past 6 months have rung true.  The quality and workmanship of every aspect of our new home has been impeccable.  Woohoo!!!
So today was the big day…  We pulled away from our "s&b" for a longer trip and even crossed a state line in the process!  We are GONE and barring some unforeseen circumstances, we won't return until the old house is under contract.  Although it was a tiny bit emotional, it was only a teeny tiny bit.  I didn't even shed a tear until we were getting ready to pull away and Elijah and I did a final walk through.  When Greg saw me, he started to tear up too.  We have had 10-1/2 wonderful years in this beautiful house, so it's definitely a little emotional.  Elijah has grown up in this house and it will always be remembered by him as his childhood home.  But we are all three more than ready for our next adventure.  We decided to take some final pictures to mark this special occasion.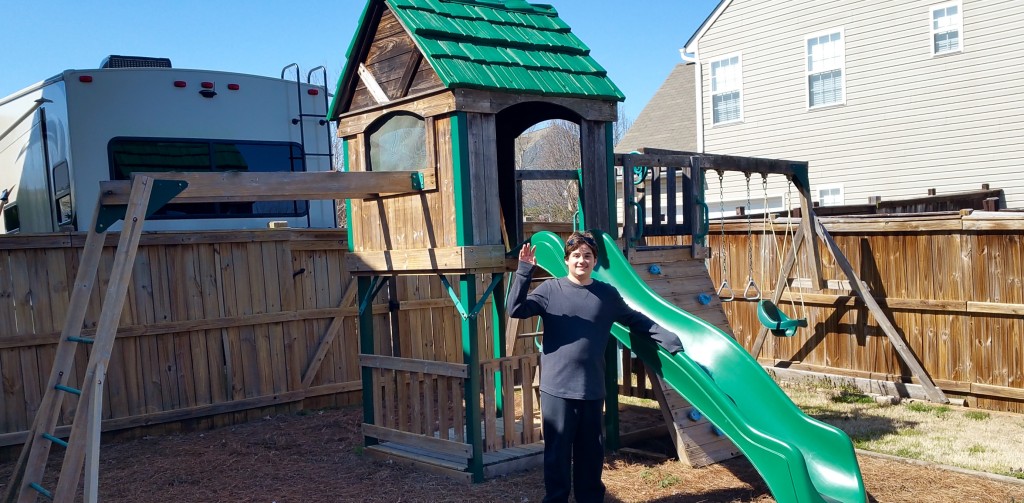 We had an easy, uneventful 3 hour drive to Forest Lake campground in NC ,(it's a Thousand Trails campground) and were again impressed by Moses (our Ford F-350 diesel dually) who pulls all 41″ feet of Exodus like it's nothing.  We arrived to a beautiful resort like campground and were lead to a spacious site with full hookups.  Greg is a already an old pro at unhooking and leveling us; so we were stabilized, slides out  and I was cooking dinner within 20 minutes of our arrival.  Time for tacos!  Life is good!
Until next time…  Happy Trails & Sunny Sails!
P.S.  For some reason my blog will not provide the means for you to post a comment.  Ugh…  I have set it all up to allow comments and it will on my other pages (About Us, and Our Rig) but for some reason, not on this page.  I am still trying to work out the kinks.  Some day you will visit my blog again (hopefully) and see a comments section down at the bottom.  When you do, say HI!